Current
Going forward: Public sector reforms and locking-in balanced budget in Serbia
March 2, 2018
From an enormous fiscal deficit in 2014 (6.6% of GDP, i.e. 2.2 bn euros), Serbia practically reached a structurally balanced budget in 2017. However, indisputable achievements aside, the implemented fiscal consolidation has numerous weaknesses (absence of reforms, greater reliance on revenues than on savings). This is why public finances in Serbia, regardless of its excellent ... Read more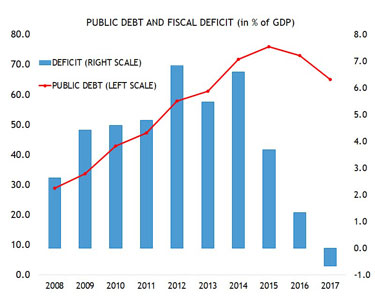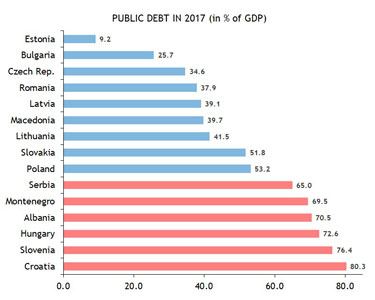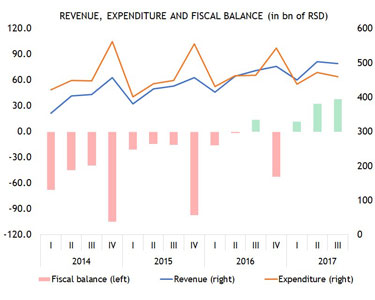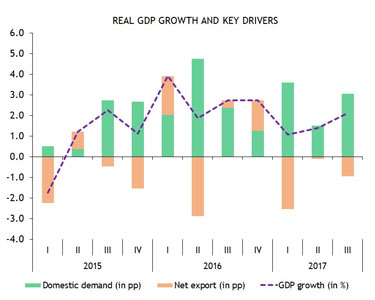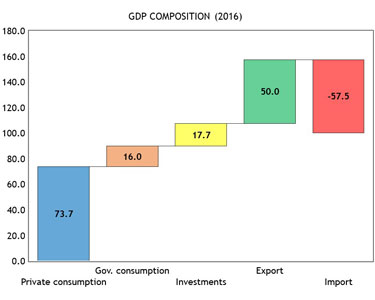 The Assessment of Budget proposal for 2018
December 12, 2017
The 2018 Budget plans for a 28 bn dinar deficit of the Republic, the largest part of the general government deficit, which is planned at 32 bn dinars. Fiscal Council's assessment of the general characteristics of the budget is mostly favourable. First, in terms of the size of the deficit a good fiscal objective has been set (size of the deficit). Expressed as a share of GDP, the planned national deficit amounts to about 0.6% of GDP ... Read more
Fiscal trends in 2017 and recommendations for 2018
September 29, 2017
In 2017, the most important quantitative objectives of fiscal consolidation have been achieved. For the first time since 2005, there will be a fiscal surplus and, after ten years, the public debt shall once again see a significant drop. The balance between fiscal trends has neutralized the immediate danger of a public debt crisis and contributed to macroeconomic ... Read more
Local Public Finances: Issues, Risks and Recommendations
July 5, 2017
Fiscal problems of local governments put the national public finances at risk, but they also slow down economic growth and lower the quality of life of Serbian citizens. The budgets of many cities and municipalities are unsustainable, while the majority of public enterprises and other institutions under local governance (e.g. pharmacies) show very poor performance. Together with ... Read more
Fiscal Consolidation and Growth in Serbia, 2015-2017: Program, Accomplishments and Drivers
March 6, 2017
Despite the encouraging progress in economic and fiscal trends in 2015 and 2016, Serbia is still far from high economic growth and healthy public finances. In this paper, we provide an in-depth analysis of the drivers of the economic recovery and the fiscal deficit decrease in the previous two years. In both cases, the analyses have shown ... Read more
Assessment of the Law on Budget of the Republic of Serbia for 2017 and Fiscal Strategy for 2017-2019
22.12.2016.
The Budget of the Republic of Serbia for 2017 brings some improvements to the public finances of Serbia: a relatively low fiscal deficit of 69 bn dinars (1.6% of GDP) will lead to a slight decrease of public debt in terms of GDP, the budget revenues and expenditures have been credibly planned in general, while the inclusion of large ... Read more
Evaluation of Fiscal Trends and Structural Reforms in 2016
14.11.2016.
The budget part of fiscal consolidation is going well so far and results achieved indicate that the realization of quantitative fiscal objectives has been adequate and, in many ways, faster than planned. However, the reform part of initiated fiscal consolidation is running considerably late. Successful reforms should improve the structure of public expenditures, decrease ... Read more
Fiscal Trends in 2016, Consolidation and Reform 2016-2020
28.06.2016.
The fiscal trends in the previous year and a half, since the fiscal consolidation started, can be rated as satisfactory, as the general government deficit has been permanently decreased by over a billion Euros (over 3 pp of GDP). In addition, 2015 saw the beginning of economic activity recovery, now gradually accelerating in 2016 - additionally improving the fiscal stance ... Read more